< Back to My Blog
November 25, 2016 2:09 am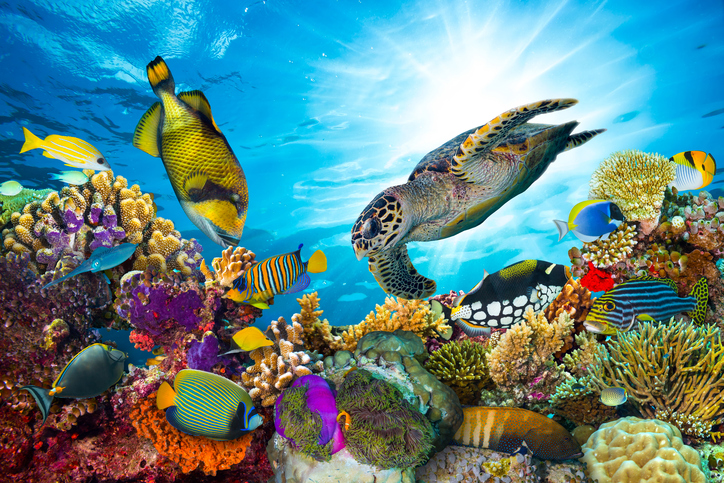 If you love snorkeling, you've probably discovered some favorite spots in the Caribbean islands. But contributors to Travel and Leisure Magazine recommend five dream spots for ocean aficionados that can't be beat for snorkeling and other ocean sports:
Komodo Islands, Indonesia
– While the giant lizards here get most of the attention, Komodo's Pink Beach will put you in a colorful undersea garden with rays, schools of groupers, and hawksbill turtles. Alternatively, visit the sea surrounding Komodo National Park, which offers unmatched underwater exploration with over 1,000 species of fish, 260 types of coral, and 14 types of endangered whales, dolphins, and giant turtles – not to mention rays, sharks, and a flourishing coral reef.
Buck Island, St. Croix, Virgin Islands –
In this paradise for beginning snorkelers, you can make your way through the Elkhorn coral barrier reefs in brilliant blue waters and see colorful parrot fish, three species of sea turtles, terns, and endangered brown pelicans.
Palau
– Only one of the marine lakes that dot Palau is open to snorkeling, but it's worth the trip. Jellyfish Lake on the uninhabited island of Eil Malk lives up to its name, filled with millions of golden jellyfish that have thrived in the isolated lake for hundreds, if not thousands, of years. For a truly other-worldly experience, you can snorkel among these amorphous floating creatures, which have a non-poisonous sting that can hardly be felt by humans.
Great Barrier Reef, Australia
– It's impossible to talk about the world's best snorkeling spots without mentioning the world's largest coral reef ecosystem. Made up of 2,900 individual reefs that stretch over 1,400 miles off the Australian shoreline, the area boasts eye-popping coral, brilliant marine life, barracuda, manta rays, and the bones of ships that have crashed on the reef over the years. For an easy place to start, head to the Whitsunday Islands right off the shore of Queensland.
Hawaii's Big Island
– The underwater state park at Kealakekua Bay offers spectacular coral and colorful fish. Hit the water near the Captain Cook Monument to see dolphins, turtles and a variety of undersea creatures. For more underwater adventure, head to the crystal waters of Honaunau Bay to explore coral gardens, dolphins and tropical fish.
Published with permission from RISMedia.